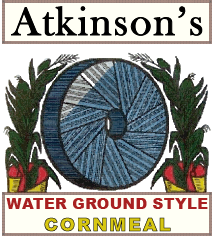 Welcome to Atkinson Milling Company!
As you explore our website, you'll find a company that has a rich history dating all the way back to the year 1757.
We've been making quality cornmeal products at our mill in Johnston County, North Carolina since before the American Revolution!
Since we are a family-owned business, making quality, competitively priced products is not just our job, it's our personal commitment.
---
"Cornbread Man"
Ray Wheeler and wife Betty
We try to put a little bit of family pride into every bag we make. If our products are not the very best products on the market, then they don't deserve the name "Atkinson's" on the bag.
---