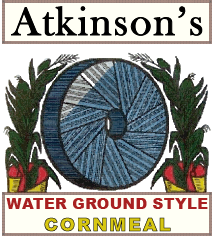 History
A Brief History of the Mill: 1757 Till Present
Atkinson's Mill in 1906
John Richardson built the Mill in April 1757 and died in 1802. The mill then passed to his son William Richardson who died in 1822. Next, the Mill passed to his son Dr. Joseph Richardson who died in 1840. The Mill passed next to his son Lunsford Richardson who drowned at the Mill in 1856 at age 48. Lunsford Richardson had five children: William, Clement, Martha (Pattie), Rozetta and Lunsford II. Rozetta married Dr. Joshua Vick of Selma. Rozetta's brother, Lunsford II, operated a drug store in Selma where Vicks Vapor Rub was developed along with several other Vicks products. These products formed the basis of what was later known as the Vick Chemical Company, which became a world wide empire. The Mill passed to Martha (Pattie) Richardson who, in 1859, married Thomas H. Atkinson, a wealthy land owner near Boone Hill (Princeton). Thomas died in 1905 and Pattie died in 1912. At that time, the property consisted of a cotton gin, sawmill, general store, blacksmith shop, wheat and corn mill. Thomas and Pattie Atkinson had seven children: Robert, Minna, Joseph, Albert, Robena, Thomas II, and Wade. The Mill passed to their son Thomas Atkinson II and later to another son, Dr. Wade Atkinson. Wade died in 1942 and Thomas died in 1947. The Mill passed finally to Mrs. Mary Atkinson, widow of Dr. Wade Atkinson who owned and managed mill until it burned in 1950.
Atkinson Milling Company was incorporated with the initial shareholders being Mrs. Mary Atkinson (widow of Dr. Wade H.), Jean McLean, Ruth McLean and Cora MacLean. The McLeans are daughters of Robena Atkinson, granddaughters of Thomas H. and Pattie Atkinson. The present Mill building was erected by Atkinson Milling company in 1951. Stock in the Atkinson Milling Company transferred to Ray and Betty Wheeler, the present operators, in June 1971.
Dr. Wade Atkinson - Laying a Foundation for the Future
Dr. Wade Atkinson owned the mill in 1930. He was the first owner to attempt to build a concrete dam across The Little River. He was probably the first owner in the history of the mill that could afford the labor and materials to construct such a concrete dam.
Many neighbors have made the statement in recent years that they helped mix concrete and carry rocks in wheel barrows to help build the dam. Some of these neighbors said that they made as much as $1.00 a day, which was a good wage in those days.
Dr. Wade Atkinson grew up around the mill and all along The Little River. He gained national fame as a physician in Washington, D.C. and local fame on his summer vacations by giving medical attention to people in Johnston County for very little or no pay. Dr. Atkinson died in 1942. His heirs established the Dr. Wade Atkinson Memorial Library and Community Building (formerly Old Corbett & Hatcher School) in his honor.
Mrs. Mary Atkinson and the McLean Sisters - Rebuilding After the Fire
Mrs. Mary Atkinson (wife of Dr. Atkinson) owned and managed the milling operation from 1942 until 1950 when the mill was destroyed by fire. Mrs. Atkinson, already at a retiring age, decided not rebuild the mill. Dr. Atkinson's three nieces, Misses Jean, Cora and Ruth McLean, who were also raised in and around the mill, approached Mary Atkinson about forming a corporation with the four of them to rebuild the mill. This was done in 1951 with Mrs. Atkinson serving as a member of the corporation until her death in 1968. A memorial to her may be seen across the river from the mill as the Mary Atkinson Girl Scout Camp.
The McLean sisters acquired Mrs. Atkinson's share of the stock in the corporation at Mrs. Mary Atkinson's death and continued the operation of the mill with Jean McLean as president. The McLean sisters operated the mill until 1971, when they sold the corporation to Ray and Betty Wheeler, who had been employed at the mill since 1958. This ended a 214 year, one family ownership.
Although the ownership had changed, the friendship between the McLeans and the Wheelers had not. From 1958 until 1971, while the Wheelers were employees, the corporation made sure that the Wheelers and their six children's needs were met, whether the corporation made money or not.

The mill during the drought of 1977
Very few young couples maintain that kind of help and friendship from people who are of no blood relation. Without the McLean sisters past contributions to the Wheeler family and to Atkinson Mill, neither of us would be what we are today.
---
Present Owners - Ray & Betty Wheeler
By Ray Wheeler (2006)
Betty and I are very happy to be running a business with so much history behind it. After over 240 years, it is doing better than ever before.
Fifty to sixty years ago each county had at least 20 Grist Mills operating and some counties had as many as 40. Today Atkinson Milling Company is the only water powered grist mill operating in Johnston County. Our neighbors, Wake County, Wilson County, and Wayne County don't have any grist mills operating.
Betty and I came to the mill in 1958 with nothing except ourselves and a desire to make a decent living. We were both about 20 years old and neither of us had any experience in this type of work. I learned a lot about making corn meal by getting people who had worked here in the past to show me what they knew. In a short time, I felt I knew enough to get by on my own. It has been a learning experience ever since and there is still a lot that I don't know. I recall my first year at the mill working very long hours where my part of the profit for the year was less than twenty-five cents an hour. So Betty had to work at a shirt factory in order for us to live. By 1960, we had two children and the business had grown to the point that she did not return to the factory job, but instead went to the mill to help me bag meal.
Shortly after Betty began work at the mill, I would leave Betty to look after the mill while I was gone for a few minutes and soon after that I would be gone for half a day. She learned in a short time to run the mill as well as I could. That is when our business really began to move. Betty could run the mill and handle all the business in and out of the mill. That left me free to go where I was needed anywhere in the state and be gone as long as necessary.
We knew that with both of us working together for one common goal that we could accomplish anything we wanted in the milling business. We worked for Atkinson Milling Company, Inc. for 13 years as if it belonged to us and built the business to a point that it was worth much more than when we started.
In 1971, the McLean sisters offered to sell the corporation to Betty and I at what we felt was a very good price. They made our dreams come true by just making the company available to us. Thirteen years of hard work had paid off and we knew that we had been working for true friends all along. By that time, we had produced almost as many kids as we had bags of corn meal. Glenn was 13, Ben was 12, Tim was 10, Gary was 8, Cindy was 4, and Wendy was 2. We were able to make it work by working together for one common goal. We started with 2 and in a short time there were 8 of us.
We thought we had it made when 13 years earlier we got the job of working for this company making enough money to buy groceries almost every week. All of a sudden we had borrowed more money to buy this company than we thought we would ever see as tenant farm kids raised in Johnston County.
Now, Glenn is Operations Manager and Ben is the Mill Manager. Soon a third generation will begin management of the Mill as several of their children will begin working at the Mill after going to college to study Agriculture and Business.
Betty has retired from office work. I (Ray) don't have a regular job. I try to spend some time in each area of the business and some time with each of the 60 people that make up the company.
---
Operation of the Grist Mill
Grist Milling is a method of grinding grain into bread by having the grain sheared between two stones. This method has been used as far back as time began.
In Biblical days, people would put wheat or barley on a stone and rub it with another stone to grind it. That is the very same thing we do today at Atkinson Milling Company with corn meal. The only difference today is that we do it with larger stones, with more power on the stones, for more production per hour. A lot of the grinding is still done with water power.
Corn comes into our mill from farmers by the truck load. It is cleaned at least three times or until there is nothing left except nice whole grains of corn before it is ground into meal. The meal you buy in the store is never touched by human hands. It is moved by air from one processing place to another and then bagged by semi-automatic machinery to insure that it is never exposed to any element that could cause a problem.
In the past ten years, we have purchased the franchise for Cattail Milling Company, Boddie Milling Company, and Ellis Davis Milling in order to add these brand names to our list of products which we sell in about 10 counties of the state. We are very proud of the success we have had in the grist milling business. The people working with us in this company have played an important part in our success and without the many customers who buy our products we would be nothing.